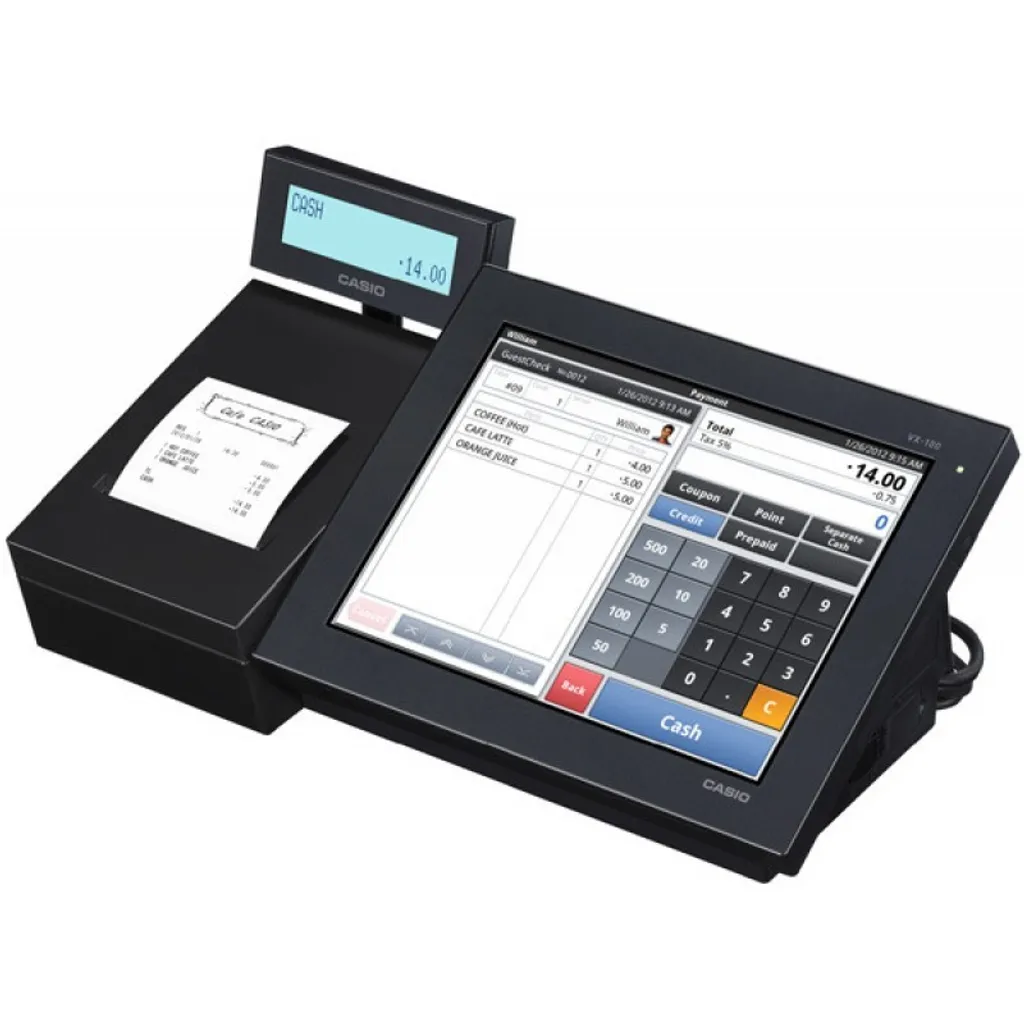 CASIO V-R100 Android POS System
Package Included: CASIO V-R100 Android POS Terminal with thermal printer (80mm) & Customer Display, DL 2814 Cash Drawer.
High-Performance Cash Register with a Preinstalled Sales Management Application
Customer Management:
Customer information: Manage the registration, search, deletion, and printing of customer information.

Purchase analysis: Support timely marketing activities such as direct mail distribution by analyzing customer information using RFM analysis and customer ranking analysis.

Rewards management: Manage the operation of member rewards programs such as preferred customer discounts.
Reservation Management:
Reservation management: Record reservation information on the V-R100.
Use the search feature to rapidly respond to sudden changes or inquiries.

Order management: Freely input and manage customer orders and requests.
It's even possible to flexibly accommodate parties or special orders.

Reservation support: Print reservation lists for use in meal or order preparation.
E-mail Remote Operation:
Reservation flash report: Confirm the number of new reservation and reservation fulfillment. Simultaneously check current operating status and future capacity forecast.

Customer flash report: Confirm the number of new members. Keep up to date on new and additional member recruitment.
Software

Platform

Android™

Application
Software



Preinstalled


Application

Sales Management (Cash Register)

Web browser

Email

Additional


Applications

Customer Relationship Management

Reservation Management

Remote Control by Email

CPU

ARM Cortex-A9 Dual Core 533MHz

Memory

RAM

512MB

Flash ROM

2GB

Display

Main


Display

Type

10.4-inch color LCD with touch panel


800 x 600 dots (SVGA)

Function

Electric tilt

Splash-proof

IPX2 (Compliant with IEC60529 standard)

Sub-


display

Type

Monochrome LCD 32 x 160 dots (20 letters x 2 lines)

Function

Pop-up

Keyboard

Software Keyboard

Touch panel with main display

Printer

Printing Method

1-sheet thermal printer

Paper Width

80mm x 80φ / 58mm x 80φ

Paper-loading

Drop-in paper-loading

Interface

Drawer Ports

2 ports

Magnetic Card Reader Interface

Yes

Ethernet Port

RJ45 x 1 (10/100 Base-T/Tx)

USB2.0 Host Port

USB Type A x 1

RS-232C Ports

D-sub 9-pin x 3

Memory Card Slot

SD memory card (SDHC) x 1

Memory Backup

Nickel metal hydride rechargeable battery

Power

AC 120-240V

Approx. External Dimensions

395(W) x 237(D) x 229 (H) mm

Approx. Weight

5Kg

---